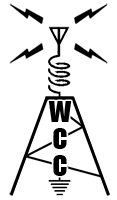 Wasteland Communications Corp
"Civilization starts with Communication"
The WCC is really two things. The first is the Wasteland Commications Club. We are an amateur radio club dedicated to introducing fans of postapocalyptic fiction to wireless communication. The second thing is the Wasteland Communications Corporation, which is our tribe at the Wasteland Weekend event in Southern California.